The Gardens Figure Skating Club


Welcome to the Gardens Figure Skating Club Website.
Spring Show 2005
&nbsp
Test Session
Our next test session is scheduled for September 30, 2005 The deadline for test applications is September 16th Test inquiries to Sharon Raver - SRaver04@aol.com or April North - Jailpsymom@comcast.net
For more information about upcoming test sessions please visit our 'Testing' page.
Spring Show 2006
The next Gardens Figure Skating Club spring show will be Peter Pan! The dates have been set for April 1 & 2. We will have a total of four shows in the Patrick Rink at the Gardens Ice House. Dates and times for show committee meetings will be posted on the website and anyone wishing to volunteer is encouraged to attend.
Newsletter
The July issue of our bi-monthly club newsletter has been mailed to all members. It is also posted on our newsletter page. If you would like to receive the newsletter by email please join our mailing list on the newsletter page.
Club Information
Membership expired June 30. renew now. Forms available -
click here
The Club Information page of our website includes basic information about us including our club bylaws, ice time, membership information and membership application.
Visit our 'What's New' page to find out about the latest current club happenings.
For dates and applications for upcoming events visit our 'Calendar' page.
National Collegiate Championships
Congratulations to our home club member Laura Murphy for qualifying out of the initial round at the National Collegiate Championships in Hawaii!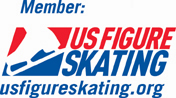 (since July 2001)